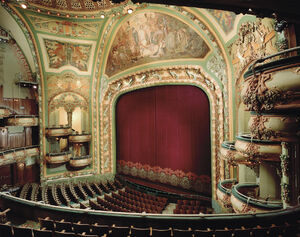 In 2013, Disney explored the idea of a Broadway musical starring the Muppets. A 15-minute presentation was held May 31, 2013 at Disney's New Amsterdam Theater in New York City to test the concept. The showcase featured 85 puppets and "a handful of sets", and used mainly existing Muppets material, including a performance of "Rainbow Connection" by Kermit. The focus of the presentation was to test the technical requirements of such a show.
The show was directed by Alex Timbers, who had pitched the concept to Disney's theatrical group. No new developments have been publically reported since the presentation in 2013, however Thomas Schumacher (president of Disney Theatrical Group) had reported that he was "very intrigued" after the demonstration.[1]
See also
Sources
↑ Disney Theatrical Eyeing Muppets On Stage (EXCLUSIVE). Cox, Gordon. Variety. June 11, 2013
Ad blocker interference detected!
Wikia is a free-to-use site that makes money from advertising. We have a modified experience for viewers using ad blockers

Wikia is not accessible if you've made further modifications. Remove the custom ad blocker rule(s) and the page will load as expected.