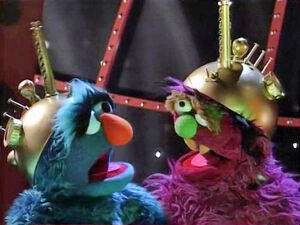 Underlings are two evil alien servants of Zostic, on the planet Enormous in "Super Morphin Mega Monsters" skits on Sesame Street. They carry out Zostic's orders, making trouble for innocent monsters on planet Earth, fomenting prejudice, selfishness, and other negative emotions. On Earth they ordered 2 innocent monsters to do something wrong like fighting with a toy truck or discrimination because of fur color, littering, or other bad behaviors.
These aliens are equivalent to Squatt, Bamboo, Goldar and other villains used on Mighty Morphin Power Rangers and its spin-offs.
Originally, they were performed by Camille Bonora (the blue Underling) and David Rudman (the purple Underling). Later sketches gave Rudman the blue Underling and Alice Dinnean the purple Underling.
Ad blocker interference detected!
Wikia is a free-to-use site that makes money from advertising. We have a modified experience for viewers using ad blockers

Wikia is not accessible if you've made further modifications. Remove the custom ad blocker rule(s) and the page will load as expected.