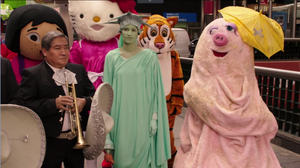 Unbreakable Kimmy Schmidt is a comedy series created by Tina Fey and Robert Carlock and starring Ellie Kemper, that has streamed on Netflix since March 6, 2015. The series follows 29-year old Kimmy Schmidt as she adjusts to life in New York City after her rescue from an Indiana doomsday cult.
Muppet Mentions
In the episode "Kimmy Gets a Job!," Titus rallys a group of unlicensed Times Square costumed characters. When a kid complains that the knock-off costume is "Not Cookie Monster," Titus agrees saying "She's right, Dale. You're not Cookie Monster. And I'm not Iron Man, and that is definitely not Miss Piggy." The camera then cuts to a poorly-made female pig costume.
In the episode, "Kimmy Goes to a Party!", Titus claims he had a brief stint on Sesame Street as Gordon.
Also in "Kimmy Goes to a Party!", a man Kimmy met at a party admits his name isn't really Beeker, "I'm not a Muppet scientist." Kimmy corrects him, "Bunsen Honeydew's the scientist. Beaker's just his assistant."
In the episode "Kimmy is Bad at Math!," Dong, a recent Vietnamese immigrant, tell Kimmy that he came to New York because of movies like "Wall Sugar" (Kimmy corrects his translation of the title, saying it's "Wallstreet"), "Home by Myself Again" (Kimmy corrects his translation of Home Alone 2) and "The Puppet Frog and the Pig Wife Take Manhattan" (which Kimmy questions as him meaning "When Harry Met Sally").
In the episode "Kimmy Ride a Bike!," Rev. Richard Wayne Gary Wayne explains how he figured out the date of the apocolypse as June 6, 2006 (6-6-6). The reverand states "It came to me while I was watching Sesame Street. The number of the day was 9 and I was in my gravity boots."
In the episode "Kimmy Goes to a Play!," Lillian claims that her neighborhood inspired Sesame Street, citing a resident in a trash can and a "large furry monster only [she] can see."
Connections
Ad blocker interference detected!
Wikia is a free-to-use site that makes money from advertising. We have a modified experience for viewers using ad blockers

Wikia is not accessible if you've made further modifications. Remove the custom ad blocker rule(s) and the page will load as expected.