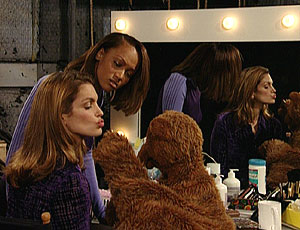 Tyra Banks (b. 1973) is a supermodel who hosts the reality series America's Top Model and is the host of her own syndicated talk show The Tyra Show.
Tyra made a brief cameo alongside Cindy Crawford and Baby Bear in Elmopalooza.
She and Elmo introduced a segment listing the winners of the "Children's Emmy Awards", during the 2007 broadcast of the Daytime Emmy Awards.
In a 2007 episode of Sesame Street, she presented the word "struggle". She later taped a season 44 segment with Abby Cadabby and a letter Z. Although it wasn't televised during the season, it appeared online through SesameStreet's YouTube Channel. (YouTube)
On December 3, 2009, Elmo, Rosita, and Cookie Monster appeared on her show to promote Sesame Street's 40th anniversary, and Elmo went for a bite of Tyra's neck.
External links
Ad blocker interference detected!
Wikia is a free-to-use site that makes money from advertising. We have a modified experience for viewers using ad blockers

Wikia is not accessible if you've made further modifications. Remove the custom ad blocker rule(s) and the page will load as expected.