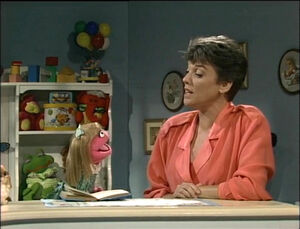 Tyne Daly (b. 1946) is a stage and screen actress, who gained recognition on the television series Cagney and Lacey. A multiple Emmy and Tony Award winning actress, Daly appeared on Sesame Street in the celebrity version of "Monster in the Mirror" and an insert with Prairie Dawn. (EKA: Episode 2916) She also headlines the Emily Perl Kingsley scripted TV movie Kids Like These featuring Caroll Spinney as Big Bird.
Besides Cagney and Lacey, Daly's other television credits include Judging Amy, Mission: Impossible, the Soap opera General Hospital, and the made for TV movies Columbo: A Bird in the Hand and Bye Bye Birdie (with Jason Alexander and Vanessa Williams). Broadway credits include The Seagull, and Stephen Sondheim's Gypsy.
External links
Ad blocker interference detected!
Wikia is a free-to-use site that makes money from advertising. We have a modified experience for viewers using ad blockers

Wikia is not accessible if you've made further modifications. Remove the custom ad blocker rule(s) and the page will load as expected.