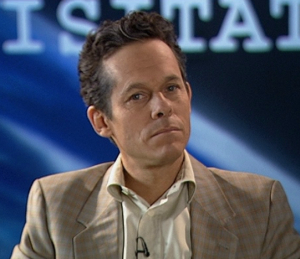 Tyler Coppin (b. 1956) is a California-born actor working primarily in Australia. Coppin guest starred on Farscape as Sheriff Robert Schelmacher in "Kansas" and "A Constellation of Doubt."
Coppin's film credits include The Survivor, Mad Max 2 (as "Defiant Victim," strapped to the front of a deathbuggy), and Reckless Kelly. In television, the actor guest starred on the Australian series Water Rats and on Nightmares & Dreamscapes, playing Richard Fornoy in the episode "The End of the Whole Mess." On stage, he has played Puck in Baz Luhrmann's stage version of A Midsummer Night's Dream and has frequently impersonated famed Australian actor and dancer Robert Helpmann.
External links
Ad blocker interference detected!
Wikia is a free-to-use site that makes money from advertising. We have a modified experience for viewers using ad blockers

Wikia is not accessible if you've made further modifications. Remove the custom ad blocker rule(s) and the page will load as expected.