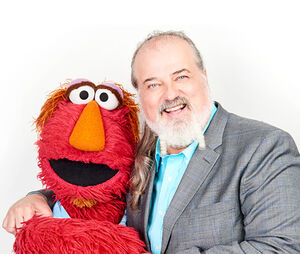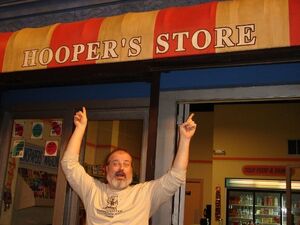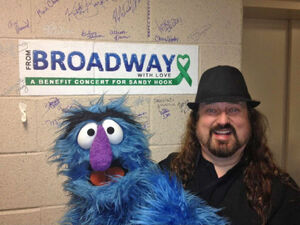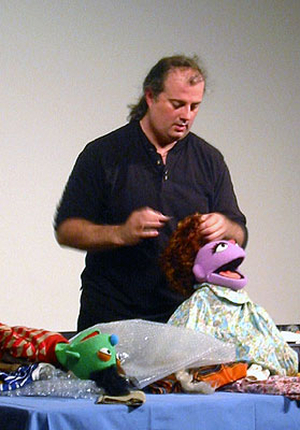 Tyler Bunch (b. February 10, 1970) has worked as a Muppet performer since joining the cast of Sesame Street in 1993.
Muppet/Henson credits
Sesame Street: Rico, Mr. Can You Guess, Joe Doe, Prince Cha-Cha-Charming, "Pre-School Musical" announcer, Ryan, Tom Twinkletoes, Big Bad Wolf (Episode 4145, Episode 4266), Jack the Boss, Max Bear, Minnesota Mel, Super Chicken (in Episode 4176), Jeff Bawksworthy, Jeff Probst Muppet, Enormous Athlete, Blake Shelton Muppet, Skip Squawk, various Anything Muppets
Don't Forget to Watch the Movie: background characters
The Best of Elmo: background characters
The Producers: Pigeons
Emmet Otter's Jug-Band Christmas (stage show): Doc Bullfrog, Catfish, Squirrels, (also Puppet Captain)
Abby's Flying Fairy School: Niblet, Peck (voice)
The Muppets (film): Foozie Bear, Thog, Whatnot Reporter, Hobo Muppet
The Public Theater's A Winter's Tale: AM Monster
The Muppets (series)
Julie's Greenroom: Hugo
Last Week Tonight with John Oliver: Penguin
Composer
Non-Muppet credits
See also
Ad blocker interference detected!
Wikia is a free-to-use site that makes money from advertising. We have a modified experience for viewers using ad blockers

Wikia is not accessible if you've made further modifications. Remove the custom ad blocker rule(s) and the page will load as expected.