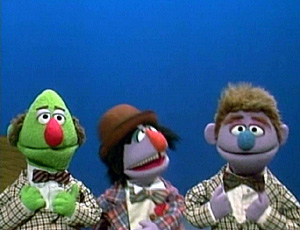 Two Guys Named Ed appear with Mr. Between in his song of the same name. Sometimes Mr. Between likes to get between them. The two Eds don't know who he is.
The Green Anything Muppet is performed by Jerry Nelson, the Lavender Anything Muppet by David Rudman.
Ad blocker interference detected!
Wikia is a free-to-use site that makes money from advertising. We have a modified experience for viewers using ad blockers

Wikia is not accessible if you've made further modifications. Remove the custom ad blocker rule(s) and the page will load as expected.