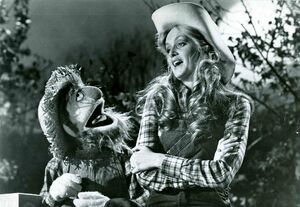 Twiggy (b. 1949), born Leslie Hornby in London, England, was one of the top fashion models of the 1960s and 1970s. She was the guest star on episode 121 of The Muppet Show.
She is also a talented actress and singer. Though her modeling days have ended, she continues to record albums and act in British TV shows and movies.
She originally was nicknamed "Sticks" because of her reed-thin figure, but then switched it to "Twigs" and, finally, Twiggy.
She was named "The Face of 1966" by the Daily Express.
Twiggy is an avid supporter of animal rights organizations and breast cancer research groups.
She was nominated for a Tony Award as Best Actress (Musical) in 1983 for her role in "My One and Only." She co-hosted This Morning through part of 2001.
External links
Ad blocker interference detected!
Wikia is a free-to-use site that makes money from advertising. We have a modified experience for viewers using ad blockers

Wikia is not accessible if you've made further modifications. Remove the custom ad blocker rule(s) and the page will load as expected.