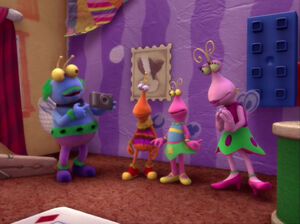 Twiddlebugs was a proposed short-form Sesame Street series starring the Twiddlebug family.
Much like the segments that debuted in season 37, the series was to depict the characters in computer animation (courtesy of Magnetic Dreams Animation Studio). Fifty-two three-minute episodes were planned for a release in fall 2008, but the series ultimately never came to fruition.
Sources
Ad blocker interference detected!
Wikia is a free-to-use site that makes money from advertising. We have a modified experience for viewers using ad blockers

Wikia is not accessible if you've made further modifications. Remove the custom ad blocker rule(s) and the page will load as expected.