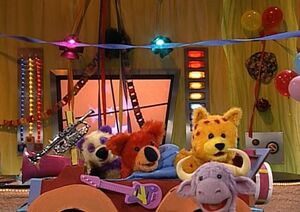 The Tunemobile is a wagon given to the DJs of Animal Jam by hosts Edi and Waffle as a present for DJ Appreciation Day.
The wagon is large enough to fit all three DJs at once, and is adorned with musical instruments such as horns and guitars, plus a megaphone on the hood for DJing while riding. Putting her strength to good use, Waffle's baby sister Pancake pushes the wagon from behind as the DJs ride.
Ad blocker interference detected!
Wikia is a free-to-use site that makes money from advertising. We have a modified experience for viewers using ad blockers

Wikia is not accessible if you've made further modifications. Remove the custom ad blocker rule(s) and the page will load as expected.