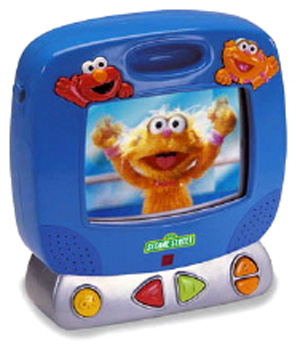 Tune In TV is a Sesame Street toy made by Fisher-Price in 2001. According to the product description:
"

Kids will love "tuning in" to a toy TV that has real animated moving images just like on their parents' TV. 6 different channels feature kids' favorite Sesame Street characters in full motion, talking away on their very own shows. Cookie Monster cooks up some tasty dishes on his cooking channel; Zoe helps teach fitness on her exercise channel; Bert & Ernie leave them laughing on their comedy channel; Big Bird is your guide to the wild on his nature channel; Elmo and Grover lay down some grooves on their Rock & Roll channel and Oscar has the forecast on his weather channel.

The infrared remote control lets kids change channels from a distance, or they can use the buttons right on the TV. There is also a "rappin' repeat" feature so that when kids continuously press the button characters will repeat a letter or word just like they are rapping!"
Ad blocker interference detected!
Wikia is a free-to-use site that makes money from advertising. We have a modified experience for viewers using ad blockers

Wikia is not accessible if you've made further modifications. Remove the custom ad blocker rule(s) and the page will load as expected.