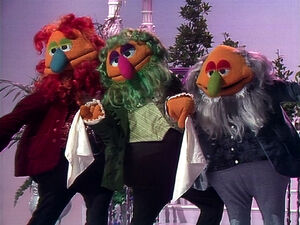 Trolls are humanoid creatures that appear in different mythologies.
The Muppet Show
Three Trolls are full-bodied Muppets who appear in dance numbers on The Muppet Show.
The red-haired Troll first appeared as Rico in the "Copacabana" number in episode 414 opposite Liza Minnelli as Lola and a Mutation as Tony. He was joined by two more Trolls, one green-haired and one gray, in a dance number in episode 416. The three appeared as pirates in episode 507.
The StoryTeller
In The StoryTeller, there were two trolls that were featured in the episode "The True Bride." It included an unnamed Troll and his daughter Trollop.
Sesame Street
A Troll made from a light green Anything Muppet appeared in Bert & Ernie's Word Play.
On a related note, Blögg from the Abby's Flying Fairy School segments is half-troll.