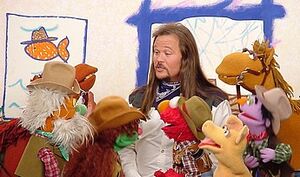 Travis Tritt (b. 1963) is a country singer whose #1 hits include "Help Me Hold On", "Anymore", "Can I Trust You With My Heart", "Foolish Pride" and "Best of Intentions".
In 2001, he guest starred on the direct-to-video special Elmo's World: Wild Wild West.
As an actor, Tritt made a vocal cameo in King of the Hill, and appeared in the feature film Blues Brothers 2000.
External links
Ad blocker interference detected!
Wikia is a free-to-use site that makes money from advertising. We have a modified experience for viewers using ad blockers

Wikia is not accessible if you've made further modifications. Remove the custom ad blocker rule(s) and the page will load as expected.