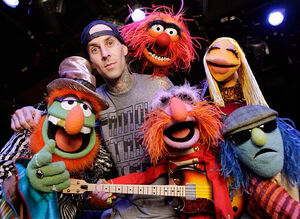 Travis Barker (b. 1975) is an American musician, best known as the drummer for pop punk band Blink-182 and The Aquabats (as The Baron Von Tito).
On March 21, 2012, Barker performed "Can You Picture That?" with Dr. Teeth and the Electric Mayhem on Jimmy Kimmel Live, including a drum battle with Animal. The segment was recorded on March 19.
External links
Ad blocker interference detected!
Wikia is a free-to-use site that makes money from advertising. We have a modified experience for viewers using ad blockers

Wikia is not accessible if you've made further modifications. Remove the custom ad blocker rule(s) and the page will load as expected.