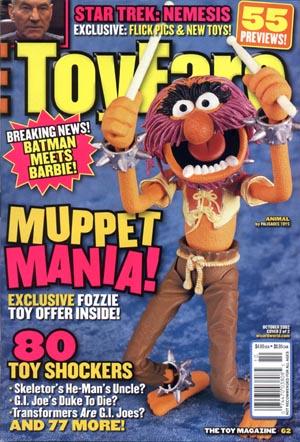 ToyFare is a toy magazine published by Wizard Entertainment.
During Palisades Toys' run with Muppet action figures, the magazine featured a number of news items directly related to the line. The publication also held exclusive retail rights to several products, including the Tuxedo Kermit, Vacation Pepe, Vacation Fozzie and Superhero Scooter action figures. With the exception of Superhero Scooter, each exclusive figure was shared with another retailer (Toys R Us also released the Tuxedo Kermit figure, while the two "Vacation" figures were shared with the Musicland chain of stores, albeit in different color schemes). They also announced several special items such as the Adventure Kermit Action Figure, pre-empting any such announcements on Palisades' official website.
In August of 2007, ToyFare included a countdown of the 100 best toys of the past ten years. Included in the list were the Sweetums Action Figure (#42), the Fozzie Bear Action Figure (#38), the Swedish Kitchen Playset (#25), the Super Grover Action Figure (#21) and the Adventure Kermit Action Figure (#15).