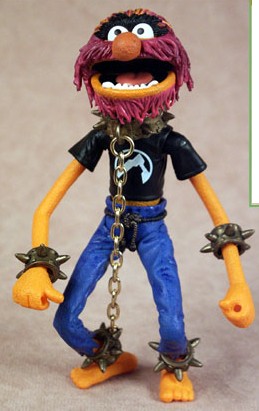 Released: Spring 2003
Articulation: Eyelids, mouth, neck, ball jointed shoulders, arms, wrists, waist, hips, ankles
This exclusive figure of Animal was sold at various Palisades Toys conventions and through the Palisades Collectors Club.
The figure was a variant of the Animal figure that came with the Electric Mayhem Playset. He wears blue jeans and a black shirt with the Palisades logo on front and the words "Palisades Tour 2003: Play With It!" on the back. He wears a gold chain around his neck.
External links
Ad blocker interference detected!
Wikia is a free-to-use site that makes money from advertising. We have a modified experience for viewers using ad blockers

Wikia is not accessible if you've made further modifications. Remove the custom ad blocker rule(s) and the page will load as expected.