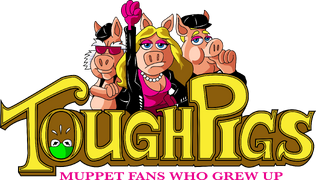 | | |
| --- | --- |
| URL  | toughpigs.com |
| Active  | August 13, 2001 - present |
| Type  | unofficial fansite |
| Creator  | Danny Horn |
Tough Pigs is a Muppet fan website created on August 13, 2001. Subtitled "Muppet Fans Who Grew Up," the site is a collection of essays, reviews and news blurbs written in a tongue-in-cheek style.
The site was created by Danny Horn, who published MuppetZine for five years in the mid-90s and is now one of Muppet Wiki's chief administrators.
From 2001 through 2005, Horn wrote articles and reviews for the site. In late 2005, Horn co-founded Muppet Wiki, and took a hiatus from Tough Pigs.
The website returned in January 2007, reformatted as a blog, written by Joe Hennes and Ryan Roe.
In 2010, the site partnered with The MuppetCast to create The Muppet Madness Tournament. In 2011, the site partnered with The MuppetCast and The Muppet Mindset to launch the short-lived MuppetFans.com.
Walter is among the site's readers.[1]
Appearances
Sources
↑ Ryan Roe, "Walter the Muppet Reads Tough Pigs", ToughPigs.com, December 7, 2011.
External links
Ad blocker interference detected!
Wikia is a free-to-use site that makes money from advertising. We have a modified experience for viewers using ad blockers

Wikia is not accessible if you've made further modifications. Remove the custom ad blocker rule(s) and the page will load as expected.