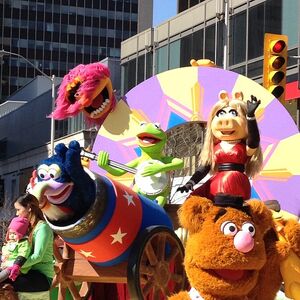 In 2012, the
Toronto St. Patrick's Day Parade
included a
The Muppets
float.
The Muppets
was scheduled for release March 20, while the parade happened March 11. Walt Disney Studios Motion Pictures Canada was entry B70. The float was the same one that appeared in the 2012
Toronto Santa Claus Parade
.
The program was broadcast on CP24.
Ad blocker interference detected!
Wikia is a free-to-use site that makes money from advertising. We have a modified experience for viewers using ad blockers

Wikia is not accessible if you've made further modifications. Remove the custom ad blocker rule(s) and the page will load as expected.