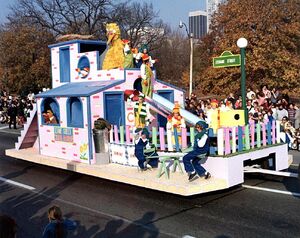 The Toronto Santa Claus Parade is a Santa Claus Parade held in November in Toronto, Canada which began in 1905. Similar to (but older than) the Macy's Thanksgiving Day Parade, the parade was founded by Eaton's department store and had but one float in its debut. Currently the parade features over 25 floats and nearly as many marching bands. CBS broadcast the parade for many years on Thanksgiving.
Members of the cast of Sesame Street (including Bert, Ernie, Big Bird, and Oscar) appeared in the parade in 1977 in a float reminiscent of the Fisher-Price Little People "Sesame Street Clubhouse" set.
Michael Earl is the only known credit for the float.
The November 20th, 2011 parade had a Disney-sponsored float promoting The Muppets. Kermit the Frog announced the float on CP24 Breakfast in October, but was unclear as to whether the Muppets themselves would be on the float. Indeed, it was just sculptures of the characters, not a live appearance. Chicken costumes worn by children on the float were new, meant to represent Camilla the Chicken's friends, and those worn by children walking near the float were reused.[1] Kermit delivered a Christmas greeting on the CTV broadcast of the program.
Trivia
The Cullen Gardens Miniature Village was an attraction which opened in 1980 in Oshawa, Ontario, Canada and closed in 2006. One of the floats in a faux parade in the attraction was a very close replica of the late 1970s Sesame Street float in the Toronto Santa Claus Parade.
Sources
External links