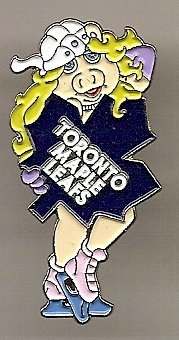 The Toronto Maple Leafs are a National Hockey League (NHL) team based in Toronto, Ontario, Canada.
References
The team was mentioned in the 1986 wrap video "Fraggles Look for Jobs", in which it is revealed that Red Fraggle (an experienced rock hockey player and athlete) has been signed to the team.
In the 1990s, Muppet characters appeared on a series of merchandise tie-ins with the National Hockey League, including t-shirts, trading cards, and pins. The Toronto Maple Leafs were included on all of these.