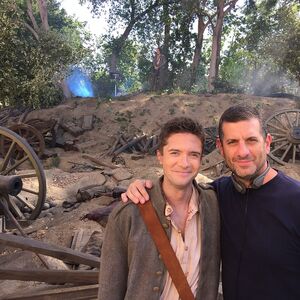 Topher Grace (b. 1978) is an actor best known for playing Eric Forman on That '70s Show and Eddie Brock/Venom in Spider-Man 3. His other credits include Predators (with Danny Trejo), Interstellar (with Anne Hathaway, Bill Irwin, and Michael Caine), and voiceover work for the English dub of Roberto Benigni's Pinocchio.
Grace appears in the pilot of the 2015 ABC TV series The Muppets as Miss Piggy's co-star in a Civil War movie. Piggy is filming this movie when Kermit the Frog asks her to host their new late night talk show.[1]
Sources
↑ ToughPigs forum MattWilkie, ABC Upfronts
Ad blocker interference detected!
Wikia is a free-to-use site that makes money from advertising. We have a modified experience for viewers using ad blockers

Wikia is not accessible if you've made further modifications. Remove the custom ad blocker rule(s) and the page will load as expected.