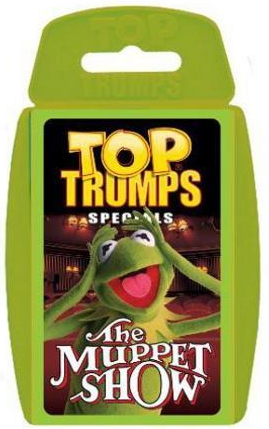 Top Trumps is a card game popular in the United Kingdom. A special pack for the Muppets was published in 2010, featuring Animal, Gonzo, Sam the Eagle, Sweetums (debut on the card erroneously says 1976), Camilla the Chicken, Statler and Waldorf, The Newsman, Dr. Teeth, The Swedish Chef, Robin the Frog, Pepe the King Prawn, Janice, Clueless Morgan, Bean Bunny, Kermit the Frog, Clifford, Fozzie Bear, Dr. Bunsen Honeydew, Beaker, Lew Zealand, Beauregard, Mahna Mahna and The Snowths, Andy and Randy Pig, Scooter, Rizzo the Rat, Spamela Hamderson, Miss Piggy, Rowlf the Dog, Pigs in Space (image used is of the Palisades Swinetrek Playset) and Jim Henson.
Each card has a profile image of the character and a short text describing the character and its history. Each card has five values; debut, mayhem, glamor, humor and hall of fame, these values are used to determine the winner of each round.
Product Description
"

At last, Kermit, Fozzie, Gonzo and the gang get their own Top Trumps pack. Ideal for everyone who has ever watched the chaotic Muppet Show, the crazy Muppets Tonight or the classic Muppet Christmas Carol, this pack is full of stories, trivia, memories and Muppet-style nonsense!
Even Jim Henson himself makes an appearance!

"
Ad blocker interference detected!
Wikia is a free-to-use site that makes money from advertising. We have a modified experience for viewers using ad blockers

Wikia is not accessible if you've made further modifications. Remove the custom ad blocker rule(s) and the page will load as expected.