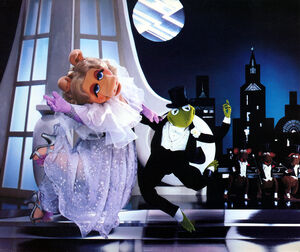 Top Hat is a 1935 musical comedy with Fred Astaire and Ginger Rogers. The most successful picture for Astaire and Rogers, the film follows an American dancer (played by Astaire) who travels to London to star in a show. While there he attempts to woo the beautiful Dale (Rogers), who rejects his advances through a series of screwball adventures of mistaken identity.
Many songs of the film have become classics and have been performed by the Muppets, including "Cheek to Cheek" and "Top Hat, White Tie and Tails".
References
External links
Ad blocker interference detected!
Wikia is a free-to-use site that makes money from advertising. We have a modified experience for viewers using ad blockers

Wikia is not accessible if you've made further modifications. Remove the custom ad blocker rule(s) and the page will load as expected.