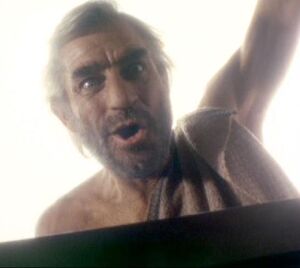 Tony Vogel (1942-2015) was a British character actor who played Diktys in The StoryTeller: Greek Myths episode "Perseus and the Gorgon." He also appeared in the Creature Shop-effects film The Odyssey as Eumaeus.
Vogel made his television debut in 1968 in the BBC play The Year of the Sex Olympics as the protagonist. His film credits include Richard Attenborough's Oh! What a Lovely War (1969, as a German soldier), Franco Zefferelli's Jesus of Nazareth, The Human Factor, Final Conflict (sequel to The Omen, as a monk), Raiders of the Lost Ark (as the tall Nazi captain), Mission: Impossible (as the MI5 representative),the 1998 version of Les Misérables, and The Emperor's New Clothes (with Ian Holm).
Vogel starred on the 1979 TV serial Dick Barton (based on an old-time radio series) and had co-starring roles in the historical miniseries Marco Polo (1982-1983, as Polo's uncle Matteo) and A.D. (1985, as Aquila). He also appeared in episodes of The New Avengers, Remington Steele, Lovejoy, Minder, Peak Practice, and Jason King.
External links