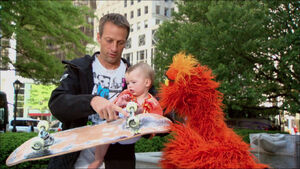 Anthony "Tony" Hawk (b. 1968) is a professional skateboarder.
He appeared in a 2009 episode of Sesame Street with his daughter Kadence, in which he helped Murray Monster count to 4 by counting the wheels on his skateboard.
The segment, which was filmed on May 19, 2009, was not a planned celebrity appearance, Hawk was walking by the location shooting with his daughter and was invited on the spot to count with Murray on camera.[1] He later remarked that seeing himself in an episode was a "surreal moment."[2]
Hawk also inspired a Muppet Celebrity T-shirt featuring Animal riding a skateboard.
Sources
Ad blocker interference detected!
Wikia is a free-to-use site that makes money from advertising. We have a modified experience for viewers using ad blockers

Wikia is not accessible if you've made further modifications. Remove the custom ad blocker rule(s) and the page will load as expected.