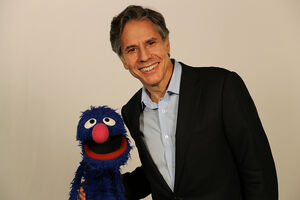 Tony Blinken (b. 1962) is the United States Deputy Secretary of State and the former Deputy National Security Advisor for President Barack Obama (2013-2015) and National Security Advisor to Vice President Joe Biden (2009-2013). Blinken had previously served in the State Department and in senior positions on the National Security Council Staff during the Clinton administration.
In September 2016, Blinken appeared at the United Nations in New York City with Sesame Street's Grover to talk about refugees.
Ad blocker interference detected!
Wikia is a free-to-use site that makes money from advertising. We have a modified experience for viewers using ad blockers

Wikia is not accessible if you've made further modifications. Remove the custom ad blocker rule(s) and the page will load as expected.