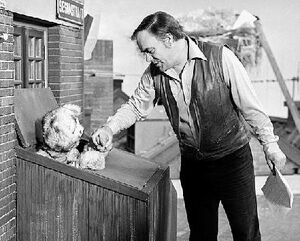 Ton Hasebos (1932-1992) served as director, translator, and songwriter on Sesamstraat, the Dutch co-production of Sesame Street, from the series' inception.
Hasebos began his television career in 1959. He wrote Kabouter Kandelaar, a television puppet show, where the gnome Candle would read a story from his television storybook. His part was playing the guitar, writing and editing the stories. He puppeteered with his wife Marja Lemarie.
One of the stories he read on the show was about Pino the penguin. Later he used this character as an early model for Pino.
Also he translated songs for foreign children's series like the French stop-motion program Colargol. In this show he worked together with Paul Haenen and Wim T. Schippers, who did some of the voice work.
On Sesamstraat, in addition to directing and translating scripts, Hasebos designed the earliest versions of the Dutch puppets Tommie, using a fur coat, and Pino. Both characters were later re-designed by the Muppet Workshop. At first the planning was he also would perform the voice for Bert, but during negotiating with the team they role would go to Paul.
Many Sesamstraat records were produced and translated by Hasebos.
Ad blocker interference detected!
Wikia is a free-to-use site that makes money from advertising. We have a modified experience for viewers using ad blockers

Wikia is not accessible if you've made further modifications. Remove the custom ad blocker rule(s) and the page will load as expected.