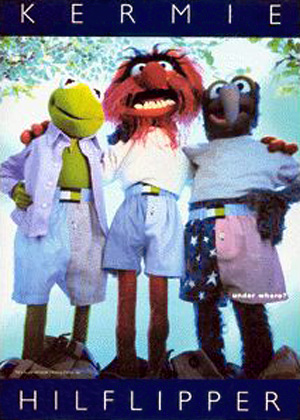 Tommy Hilfiger is an American clothing retailer headquartered out of Cheung Sha Wan, Hong Kong, New Jersey, and Amsterdam, that was founded in 1982 by Thomas Jacob "Tommy" Hilfiger (b. 1951).
References
Muppet T-shirts with the image were sold as well, featuring the three characters' faces on the front, and their legs and underwear on the back.
External links
Ad blocker interference detected!
Wikia is a free-to-use site that makes money from advertising. We have a modified experience for viewers using ad blockers

Wikia is not accessible if you've made further modifications. Remove the custom ad blocker rule(s) and the page will load as expected.