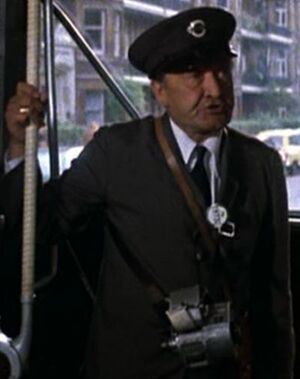 Tommy Godfrey (1916-1984) was a British actor, usually cast as working class types, who played the London bus conductor in The Great Muppet Caper.
Godfrey made his film debut as a different bus conductor, in the 1949 Ealing Studios comedy Passport to Pimlico. Similar roles followed, in films such as The Flaw, Work Is a 4-Letter Word (with David Warner), Ring of Bright Water, The Flaw, The Adventures of Sherlock Holmes' Smarter Brother (with Gene Wilder, Madeline Kahn, and Marty Feldman), and the seventies horror anthologies The Vault of Horror and From Beyond the Grave.
Godfrey was busier on television, as an array of cab drivers, landlords, workmen, or just men in pubs. He had running parts on the sitcoms On the House (1970-1971, as building crew member Arnold), Love Thy Neighbour (1972-1976, as factory worker Arthur), and Mind Your Language (1978-1979, as janitor Sid). He made episodic appearances on The Avengers, The Saint, Til Death Us Do Part, On the Buses (as yet another bus conductor), Steptoe and Son, Z Cars, Doomwatch, and Chance in a Million (with Brenda Blethyn).
External links
Ad blocker interference detected!
Wikia is a free-to-use site that makes money from advertising. We have a modified experience for viewers using ad blockers

Wikia is not accessible if you've made further modifications. Remove the custom ad blocker rule(s) and the page will load as expected.