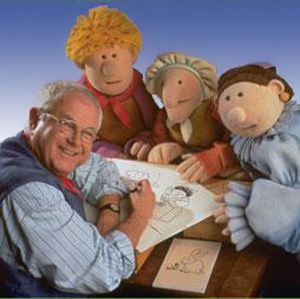 Tomie dePaola (b. 1934) is an author and illustrator of over 200 children's books. Among the honors bestowed on the author are the Newbery Honor for 26 Fairmount Avenue and the Caldecott Honor for the book Strega Nona.
dePaola was the host of the short lived series Telling Stories with Tomie dePaola, which ran for a few months in the fall of 2001 on the Hallmark Channel. Characters from one of his most popular children's books, Strega Nona, were adapted into Muppets and were featured in segments during each episode.
His book Strega Nona was adapated into a musical by the Children's Theatre Company, which went on to develop and produce Bert & Ernie, Goodnight!. Aside from hosting Telling Stories, dePaola has also appeared on the series Barney & Friends.
External links
Ad blocker interference detected!
Wikia is a free-to-use site that makes money from advertising. We have a modified experience for viewers using ad blockers

Wikia is not accessible if you've made further modifications. Remove the custom ad blocker rule(s) and the page will load as expected.