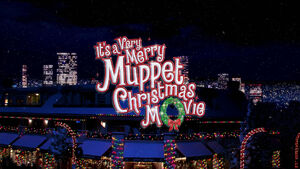 Tom Martin is a veteran TV comedy writer (The Simpsons, Just Shoot Me!) whose Muppet credits include It's a Very Merry Muppet Christmas Movie and The Muppets' Wizard of Oz.
Martin received an Executive Consultant credit on It's A Very Merry Muppet Christmas Movie, which he rewrote from an original script and story by Jim Lewis, apparently brought in by NBC as an in-house script doctor.
Similarly, The Muppets' Wizard of Oz was revised by Martin and Adam Goldberg from a screen story and script by Debra Frank and Steve L. Hayes (based on the book by L. Frank Baum).
Martin also wrote for the cult animated show Clone High and served as head writer on The Showbiz Show With David Spade.
Ad blocker interference detected!
Wikia is a free-to-use site that makes money from advertising. We have a modified experience for viewers using ad blockers

Wikia is not accessible if you've made further modifications. Remove the custom ad blocker rule(s) and the page will load as expected.