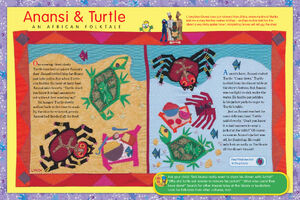 Tom Lynch is an artist who authored and illustrated the 2000 book Fables from Aesop. His technique used designs done on fabric for each character, object, or background.
Lynch contributed illustrations for two similarly fabricated stories in Sesame Street Magazine: "Anansi & Turtle" (written by Leslie Kimmelman; September 2003) and "The Lion and the Mouse" (March 2004).
Ad blocker interference detected!
Wikia is a free-to-use site that makes money from advertising. We have a modified experience for viewers using ad blockers

Wikia is not accessible if you've made further modifications. Remove the custom ad blocker rule(s) and the page will load as expected.