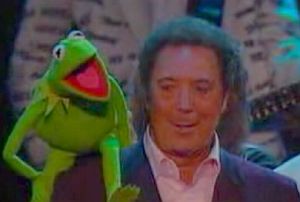 Tom Jones (b. 1940) is a Welsh singer, most famously known for his signature song, "It's Not Unusual."
Kermit the Frog and Rowlf made a a guest appearance on a special episode of his television show, "This Is Tom Jones" on July 8, 1971.
Jones also appeared alongside Kermit at the Golden Jubilee for Queen Elizabeth II in 2002.
Garth Brooks impersonated Jones on episode 102 of Muppets Tonight.
Ad blocker interference detected!
Wikia is a free-to-use site that makes money from advertising. We have a modified experience for viewers using ad blockers

Wikia is not accessible if you've made further modifications. Remove the custom ad blocker rule(s) and the page will load as expected.