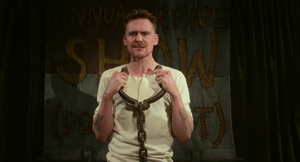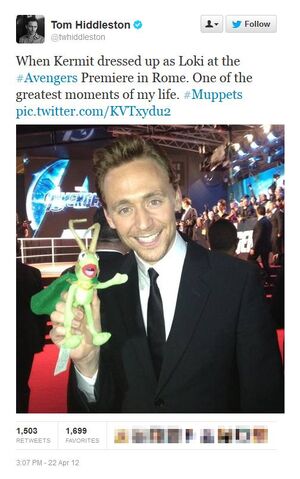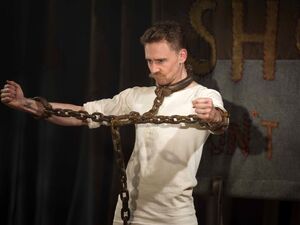 Tom Hiddleston (b. 1981) is an English actor. Among his more notable roles are Steven Spielberg's War Horse, Woody Allen's Midnight in Paris and playing Loki in the Marvel Comics feature film adaptation of Thor and The Avengers.
In 2013, he appeared in a PBS viral video with Cookie Monster. While taking a break from interviews, Hiddleston prepares to eat a cookie, when Cookie Monster appears. In an attempt to teach him a lesson in delayed gratification, Hiddleston insists that the cookie is his, but that Cookie can have one of his own. Hiddleston then presents Cookie Monster with an entire plate of cookies, and Cookie admits that waiting increased his enjoyment of the treat.
Hiddleston has a cameo role as "the Great Escapo" in the 2014 film Muppets Most Wanted. After filming his role (and having become well known for his celebrity impressions), ShortListMag asked him to do an impression of Kermit the Frog and Miss Piggy.
Attending the 2012 BAFTA Awards, Hiddleston gave Miss Piggy a kiss on the red carpet. Later that year, he tweeted a photo of himself and a Kermit doll dressed as Loki at the premiere of The Avengers in Rome. He called it "one of the greatest moments of my life."
External links
Ad blocker interference detected!
Wikia is a free-to-use site that makes money from advertising. We have a modified experience for viewers using ad blockers

Wikia is not accessible if you've made further modifications. Remove the custom ad blocker rule(s) and the page will load as expected.