Ad blocker interference detected!
Wikia is a free-to-use site that makes money from advertising. We have a modified experience for viewers using ad blockers

Wikia is not accessible if you've made further modifications. Remove the custom ad blocker rule(s) and the page will load as expected.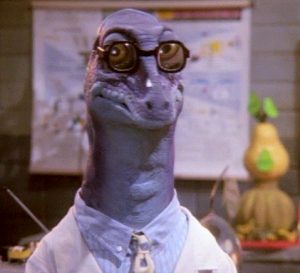 Tom Fisher is a puppeteer who has worked on assorted Creature Shop projects, primarily as a suit performer. Most notably, he was a regular on Dinosaurs, playing a variety of Unisaurs (usually of the Needlenose type) and occasionally filling in as the body performer for Earl Sinclair.
Fisher's non-Henson credits include the straight-to-video movie Theodore Rex (with Whoopi Goldberg, again inside a dinosaur) and Monkeybone (with Brendan Fraser, as a street-sweeping llama).
Credits
Dinosaurs: Earl Sinclair (Seasons 2-3, alternate), Mr. Pulman, The Babysitter, The Doctor, Dr. Herder, Elder ("The Golden Child"), Glenda Molehill, Heather Worthington, Inspector, Minister, Lingo, Pearl Sinclair
George of the Jungle: Gorilla
Jack Frost: Jack Frost arms puppeteer
The Flintstones in Viva Rock Vegas: Puppeteer
The Country Bears: Henry