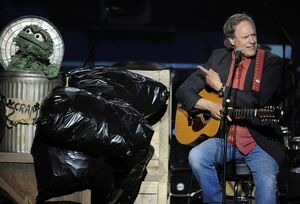 Tom Chapin (b. 1945), is a Grammy Award-winning American singer-songwriter. Best known for his children's music, he has recorded nearly a dozen family friendly albums.
Together with Oscar the Grouch, the duo performed "Garbage" at The Clearwater Concert: Creating the Next Generation of Environmental Leaders, a benefit held for singer Pete Seeger's 90th birthday.
External links
Ad blocker interference detected!
Wikia is a free-to-use site that makes money from advertising. We have a modified experience for viewers using ad blockers

Wikia is not accessible if you've made further modifications. Remove the custom ad blocker rule(s) and the page will load as expected.