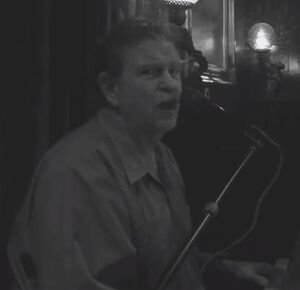 Tom Armbruster is a composer, arranger, and pianist who has worked on several Sesame Street albums. With Ed Mitchell, he co-wrote all of the new songs on the 2005 Muppet album A Green and Red Christmas.
Armbruster has composed music, often with Charlie Brissette, for the animated series Ren and Stimpy, Sitting Ducks, and The Adventures of Jimmy Neutron. He has written or arranged songs for multiple Disney albums, usually for the Mickey Mouse characters. He appeared on-camera as an improv pianist in Man in the Moon (with Jim Carrey as Andy Kaufman), for which he wrote the song "Route 69." He performs regularly at Colombo's Italian Steakhouse in Los Angeles.
Discography
External links
Ad blocker interference detected!
Wikia is a free-to-use site that makes money from advertising. We have a modified experience for viewers using ad blockers

Wikia is not accessible if you've made further modifications. Remove the custom ad blocker rule(s) and the page will load as expected.