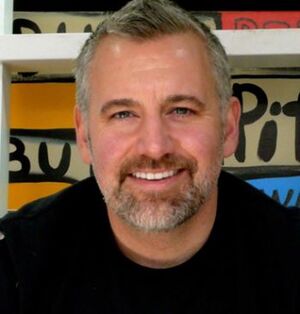 Todd Parr (b. 1962) is a children's book author and illustrator who has written over 30 books. His work often addresses feelings and emotions while his art style features thickly-lined, child-like figures (often with smiley faces). Beginning in 2010, he has contributed animated segments to Sesame Street, the first of which adapted his The I'M NOT SCARED Book. The use of child voice-overs in the segments heightens the feeling of a child's perspective.
Parr's work/style had previously been adapted to animation as the TLC series ToddWorld.
Sesame Filmography
Picture
Title/Topic
Earliest Known Appearance
Description

Fears
Episode 4215
Kids tell what they are afraid of and what helps them get over their fears.
From Parr's The I'm Not Scared Book, which was published in 2011, after the episode aired.

10 Doggie Kisses
Episode 4274
Counting as a dog kisses ten different children.

5 Dogs, 5 Bones
Episode 4282
Counting dogs and bones.

12 Bath Toys
Episode 4712
A child counts his bath toys at bath time.
External links