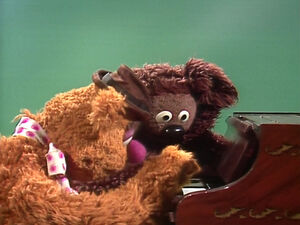 Today on Muppet Wiki was a daily highlight of the wiki's interesting topics on the front page. Although we don't use this section anymore, the archives are still fun look back at weird and quirky items that may not have always qualified for Quality status.
Septemer 2008
September 1 • Miss Piggy's Alternate Identities — Over the years, Miss Piggy has assumed a number of alter egos in order to further her illustrious career. Most famously she has played Nurse Piggy and the First Mate of the Swinetrek on The Muppet Show, but her stage appearances have also included Marie Antoinette, Maid Marion, Princess Leia and Sister Tuck. For television specials, she's been seen as Dorothy Gale, Cinderella, and even two Presidents of the United States.
August 2008
August 31 • Bernie Brillstein (1931-2008) was Jim Henson's manager throughout most of his career. He also represented many of the cast members from Saturday Night Live, accounting for the "Land of Gorch" segments during the first season. It was through Brillstein that the Muppets would secure many of their first season guest stars on The Muppet Show. Brillstein pushed for the merchandising of the Muppet characters, something Henson was reluctant to do until he was convinced that profits would help him finance pet projects that he would rather be working on.
August 30 • Busy Builders Playtown is a Sesame Street playset made by Colorforms in 1991. The set can be assembled into a 3-D diorama of Sesame Street, with busy storefronts on one side and the inside of the shops and apartments on the back. The Muppet characters are on cardstock, and can stand up when inserted into a cardstock base. The set comes with plastic Colorforms outfits and accessories which can be added to the characters or the background scenes.
August 29 • David Beckham is a midfielder for the Los Angeles Galaxy Major League Soccer team. He appears on Sesame Street Season 39 with Elmo in a Word of the Day segment for "Persistence" and can be seen in a special Backstage with Elmo segment for Sesamestreet.org.
August 20 • China is a nation state in East Asia, and the most populous country in the world. It hosted the 2008 Summer Olympics. It has been a popular location for Sesame Street productions, as well as a leading manufacturer and exporter of plush Muppet merchandise.
August 19 • Mitch Gaylord was the number one ranked gymnast in 1983 and 1984, and represented the U.S.A. in the 1984 Olympics. He led the U.S. team to a gold victory, and was the first American Gymnast to receive a perfect 10. He was twice featured in Muppet Magazine,
August 18 • Greg Louganis is a famous Olympic diver who won back to back titles in diving events at the 1984 Los Angeles games, and the 1988 Seoul games. In 1987, he appeared in Muppet Magazine issue 19.
August 17 • Slimey's World Games is a 1997 Sony Wonder video release where Slimey competes in the summer Worm Olympics. The video uses material from Episode 3300.
August 12 • Crayola Color 'n Play released two Muppet sets in 1982. Each set includes a foldout book with coloring pages and cardboard characters which can stand up or be inserted into the scenes. The coloring pages can be wiped off with a cloth, to be re-colored later.
August 10 • Dominique Dawes was the first African American female to win an Olympic gymnastics medal. She appeared on Sesame Street in Episode 3784 to demonstrate up, down, fast, and slow to Telly Monster. She is also part of the advisory board for Sesame Workshop's "Healthy Habits for Life."
August 9 • "The Ojo-lympics": Ojo is having difficulty trying to decide what sport to play. She gets the idea to host her very own version of the Olympics called the "Ojo-lympics." Soon, all of the kids in the Big Blue House are in involved in the games.
August 8 • The Olympic Games, or Olympics, are an international multi-sport event taking place every four years and comprising summer and winter games. Animal was the mascot of the U.S. Snowboarding Team for the 1998 Winter Olympics in Nagano, Japan. The Olympics have been spoofed on Sesame Street and in Muppet Magazine.
August 7 • Muppet Cuppets is a set of Sesame Street paper cups produced by Lily Cups in the early 1970s. The cups feature drawings by illustrator Michael J. Smollin.
August 6 • Granny Rose travels a long way to visit Mopatop's Shop because she has heard you can get everything you want in the shop. She wants nothing, which is hard to come by. There always seems to be a little bit of something in nothing.
August 5 • Captain Vegetable is a superhero on Sesame Street who encourages kids to eat vegetables. He wears a cape and always carries a carrot and a celery. His home base is a secret garden somewhere in New Jersey.
August 4 • The Cube was an avant-garde drama written by Jerry Juhl and Jim Henson for television. It aired on NBC as part of the anthology series Experiments in Television. The hour-long piece takes place within a single set: a white, cubed space composed of a series of rectangular panels, in which the nameless protagonist is trapped.
August 2 • "The Sesame Street Book of Letters" is a picture book released as part of The Sesame Street Learning Kit. Various letters are examined, in random order, primarily using art and characters from cartoon inserts on Sesame Street, including Wanda the Witch. An appendix includes teaching notes for parents.
July 2008
July 27 • Lola is a pink monster who lives on Plaza Sésamo, the Mexican co-production of Sesame Street. She appears in the Street segments of the show, and also has her own segment, "Lola Aventuras". She was included as a floral sculpture on a 2008 Tournament of Roses Parade float, along with other characters.
July 26 • "Hey a Movie!" is the opening number from The Great Muppet Caper. It takes place in a busy street where Kermit, Fozzie, and Gonzo change into their reporter gear and try to find a good cover story for The Daily Chronicle. But when Gonzo decides to take a picture of a chicken, the trio miss Nicky Holiday stealing Lady Holiday's diamonds.
July 25 • Gilda Radner was a comic actress best known for her Emmy award-winning work as an original cast member on Saturday Night Live. She appeared with the "Land of Gorch" Muppets in the first season, and did an introduction with Scred, who was dressed as one of the bees. She was also the guest star on Episode 304 of The Muppet Show.
July 24 • Teeny Little Superguy appeared in animated segments created by Paul Fierlinger for Sesame Street, beginning in 1982 for Season 14. Though ostensibly a superhero, Teeny Little Superguy was actually more of a practical problem solver.
July 23 • Dr. Edmund Johnston appears in the Farscape episode "A Constellation Of Doubt". A professor of cognitive behaviorism at Stanford University, Johnston is one of several experts who appear as "talking heads" in Alien Visitation. Executive producer Brian Henson was convinced to play the part when he was visiting the set.
July 22 • Annie Get Your Gun is a musical by Irving Berlin, about real-life sharpshooter Annie Oakley. On Sesame Street, a "Dinner Theatre" segment was presented as "Annie Get Your Gumbo" in Episode 4155. A family who eats gumbo together, sings about it together with the parody song "There's No Dinners Like Family Dinners".
July 18 • Muppet Star Wars PVC figures: These 6 PVC figures of Muppets portraying characters from Star Wars were sold as a set at the Disney World theme park for their annual Star Wars Weekends in July 2008.
July 17 • Bernadette Peters is an award winning actress and singer of stage and screen. She has worked with the Muppets twice, guest starring on Episode 212 of The Muppet Show, and as a guest star when Kermit hosted The Tonight Show in 1979.
July 16 • Legends of the Dark Crystal: The Garthim Wars is the first book in the Legends of the Dark Crystal manga series. UrSen, the mystic monk introduces the tale, which takes place 800 years prior to the events of The Dark Crystal.
July 15 • The "African Alphabet" is a Sesame Street song originally performed by Kermit the Frog and a group of Anything Muppets voiced by the South African a capella group Ladysmith Black Mambazo. Rather than simply recounting the letters of the alphabet, the song tells a short story in which each word begins with a consecutive letter of the alphabet.
July 14 • Duckleberry Swim: For those catching up on their summer book lists, we present this little quacker, a friend of Rubber Duckie as seen in the book Elmo Look and Find. Wearing a straw hat, Duckleberry rafts his way down Ernie's bathtub, in the manner of Mark Twain's famous Huck Finn.
July 13 • Chuckie is the ventriloquist's dummy used by Fozzie Bear on The Muppet Show guest starring Edgar Bergen. Fozzie tries to use him in his act as a means of keeping up with the guest, but is frustrated when Chuckie initially remains silent, and shakes the dummy until he falls apart. Chuckie does speak of his own volition later on..
July 12 • The Ernie & Bert Show is a recurring segment on Sesamstrasse, debuting on October 7, 2007. In these unique German skits, Ernie (puppeteered and voiced by Martin Paas) and Bert (Carsten Haffke) appear in a game show, with Bert as host and Ernie as contestant. Here is an example of a question: What has a engine and can drive? Ernie consult Rubber Duckie for advice. He then bring in his bathtub, claiming that is the answer. And later proving that his bath tub has a engine and can drive, when Bert claims thats the wrong answer.
July 11 • My Sesame Street Home Video are videos that Random House released Sesame Street videos in 1986, under the label My Sesame Street Home Video. For awhile, Random House stopped releasing new videos under the My Sesame Street Home Video label, and a new collection called Sesame Songs Home Video. Then in 1993-1994, Random House released two more of these videos, A New Baby in My House and The Best of Elmo. In 1995, Sony Wonder started releasing Sesame Street videos.
July 10 • Upside Down World" is sung by Ernie and Bert in Follow That Bird. Ernie upends the plane during the aerial search for Big Bird, as a way of getting the bird's attention. To Bert's annoyance, Ernie breaks into this jaunty tune about a world where everything is reversed. Halfway through the song, Bert's bottlecap collection falls out of the plane and falls on Big Bird, who mistakes it for a hailstorm.
July 9 • Episode 0849 is the episode from Sesame Street where Cookie Monster raises money for endangered species.He ends up buying cookies for himself, claiming that he's the only Cookie Monster left in the world.
July 8 • The first week of Season 30 (1998-1999) is finished. That week included new segments, new friends, and new changes! In Episode 3786, Alan was introduced with he new version of Hooper's Store. In Episode 3787, Gina studies to be a veterinarian. In Episode 3788, Big Bird and Elmo play the longest game of hide-and-seek. In Episode 3789, Maria builds Zoe's Zoemobile. In Episode 3790, Miles does his Video Project.
July 4 • Independence Day, better known as the Fourth of July, is celebrated as the birthday of the United States of America. Uncle Sam, the Statue of Liberty, and other patriotic symbols associated with the day, and America in general, have been portrayed by the Muppets on many occasions. As revealed in the Hal Linden episode of The Muppet Show, the fourth is Statler's favorite holiday.
July 3 • 1776 is a 1969 stage musical which adapts the debates and circumstances surrounding the signing of the Declaration of Independence. The general set-up and specific dialogue from the play were used by the Muppets in the 1982 special I Love Liberty. Fozzie Bear plays John Adams, Gonzo portrays John Dickinson, and Rizzo the Rat cameos as secretary Charles Thomson, among others.
July 2 • The Declaration of Independence is that historic document which formally announced and justified the split of the American colonies from England. The declaration was adopted on July 4, 1776, but despite popular depictions, was not actually signed on that day. The event is depicted in the Sesame Street book B is for Books! with Ernie, Bert, and Telly Monster (as Ben Franklin) among the signers.
July 1 • Stars & Stripes FOREVER! is a YouTube video starring Sam the Eagle, a penguin, the Swedish Chef, Bobo the Bear, Beaker and Animal. The video was posted on June 27, 2008, as the Muppets' celebration of the Fourth of July. The clip was posted by "Patrioticeagle", Sam's YouTube account.
More "Today on Muppet Wiki"