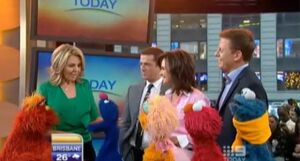 Today (sometimes referred to as The Today Show) is an Australian morning program that airs on Nine Network. The program is currently hosted by Karl Stefanovic and Lisa Wilkinson.
Appearances
Murray Monster and Elmo mess around in the control room.
Murray helps Steven Jacobs present the weather.
Elmo, Grover and Cookie Monster talk with the anchors. Grover states mistakenly went to Sydney, thinking the show was taking place there. Grover also learns that news corespondent Georgie Gardener has feelings for him.
Zoe and Elmo talk with the anchors.
All the characters talk with the anchors and make plans for after the show.
July 2012: Elmo and Cookie Monster appear for interviews, and help with the weather and cooking segments.
October 12, 2012: Filming from New York again, Elmo and Murray accompany Richard Wilkins and Richard Reid on a ride on the Staten Island Ferry.
See also
External links