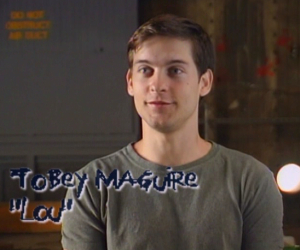 Tobey Maguire (b. 1975) is an actor who stars as the title character in the Spider-Man movies. He supplied the voice of Lou the beagle in the Creature Shop film Cats & Dogs. Other credits include Pleasantville (with William H. Macy), The Cider House Rules (with Michael Caine; scored by Rachel Portman), Wonder Boys, and Seabiscuit.
External links
Ad blocker interference detected!
Wikia is a free-to-use site that makes money from advertising. We have a modified experience for viewers using ad blockers

Wikia is not accessible if you've made further modifications. Remove the custom ad blocker rule(s) and the page will load as expected.