To Tell the Truth is a game show that has existed in several versions, beginning in 1956. Kermit the Frog appeared on the 2000–2002 incarnation hosted by John O'Hurley. Kermit joined celebrity panelists Meshach Taylor, Paula Poundstone and Traci Bingham for a series of episodes.
References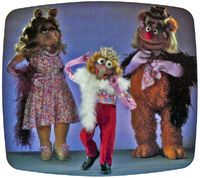 Connections
Ad blocker interference detected!
Wikia is a free-to-use site that makes money from advertising. We have a modified experience for viewers using ad blockers

Wikia is not accessible if you've made further modifications. Remove the custom ad blocker rule(s) and the page will load as expected.