To Tell the Truth is a game show that has existed in several versions, beginning in 1956. Kermit the Frog appeared on the 2000–2002 incarnation hosted by John O'Hurley. Kermit joined celebrity panelists Meshach Taylor, Paula Poundstone and Traci Bingham for a series of episodes.
References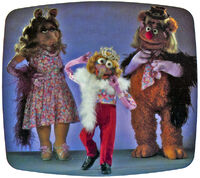 The Muppets Look at TV featured the parody "To Tell a Spoof" in which the players must identify the real Miss Piggy.
Sesame Street featured a parody of the show entitled "To Tell a Face", where a baby boy had to identify his grandmother.
Elmo's World: Teeth. In the previews on "The Tooth Channel" a show "To tell the tooth" is mentioned.
Connections