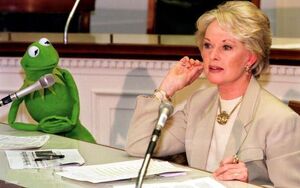 Tippi Hedren (b. 1930) is an actress best known for her leading role in Alfred Hitchcock's The Birds. She is the mother of actress Melanie Griffith.
As an activist, she appeared with Kermit the Frog, daughter Melanie, and Bo Derek on Capitol Hill to introduce the Shambala Wild Animal Protection Act of 2000.
Hedren also attended the press event for Kermit's star on The Hollywood Walk of Fame.
Hedren's other film credits include Hitchcock's Marnie (in the title role), A Countess from Hong Kong, and I Heart Huckabees, while TV work includes guest spots on Murder, She Wrote and CSI: Crime Scene Investigation, voicing Donna Day on The New Batman Adventures and Alfred Hitchcock Presents.
External links