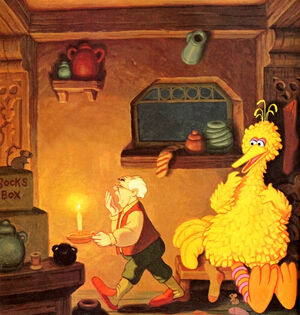 Tim and Greg Hildebrandt, also known as the Brothers Hildebrandt, were twin artists known particularly for their work in fantasy and science-fiction illustration. The pair contributed to The Sesame Street ABC Storybook, supplying art for "The Sock-Maker and the Snuffleupagus" and "Bert's Mountain." The stories were later re-issued in volumes of The Sesame Street Library and The Sesame Street Treasury.
The Hildebrandts painted the original Star Wars theatrical poster in 1977. Singly or together, they supplied posters for Barbarella, Clash of the Titans, and Don Bluth's The Secret of NIMH, as well as Marvel Comics posters. They also painted several calendars based on Tolkien's Lord of the Rings, and wrote and illustrated the fantasy novel Urshurak. Tim Hildebrandt died in 2006.
External links
Ad blocker interference detected!
Wikia is a free-to-use site that makes money from advertising. We have a modified experience for viewers using ad blockers

Wikia is not accessible if you've made further modifications. Remove the custom ad blocker rule(s) and the page will load as expected.