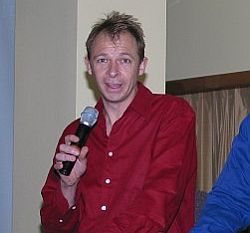 Tim Mieville is a puppeteer who worked on Farscape for the entire run of the series. He operated the body of Pilot and the arms of Rygel, and following the departure of John Eccleston, became head puppeteer of Rygel. He also operated and voiced Jotheb in the first season episode "Throne for a Loss."
Mieville's other credits include Babe: Pig in the City.
Ad blocker interference detected!
Wikia is a free-to-use site that makes money from advertising. We have a modified experience for viewers using ad blockers

Wikia is not accessible if you've made further modifications. Remove the custom ad blocker rule(s) and the page will load as expected.