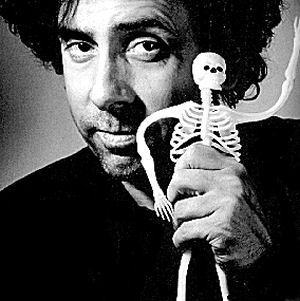 Tim Burton (b. 1958) is a Hollywood director who has helmed such films as Pee-wee's Big Adventure, the 1989 Batman and its sequel (both with Michael Keaton in the starring role), Beetlejuice, 1999's Sleepy Hollow (with Johnny Depp), the 2001 remake of Planet of the Apes, Disney's 2010 film Alice in Wonderland, Frankenweenie, and 2014 film Big Eyes with Christoph Waltz and Amy Adams.
In 1979, he performed in the finale shot of The Muppet Movie, serving as one of many dozens of puppeteers.[1]
Sources
External links
Ad blocker interference detected!
Wikia is a free-to-use site that makes money from advertising. We have a modified experience for viewers using ad blockers

Wikia is not accessible if you've made further modifications. Remove the custom ad blocker rule(s) and the page will load as expected.