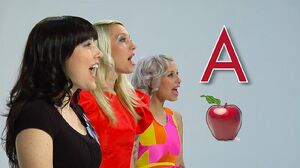 Tilly and the Wall is an indie pop group from Omaha, Nebraska. Their name originated from a children's book called Tillie and the Wall, written by Leo Lionni. They are particularly noted for having a tap dancer, Jamie Pressnall, instead of a drummer.
The band taped a segment of Sesame Street, which appeared in Episode 4181. Commenting to Gothamist, a New York City-themed blog, band keyboardist Nick White offered his perspective:
"

That was awesome. We went to the studio and filmed it with these really sweet kids that were all around three to six. We did the Alphabet Song and they had little t-shirts where they each had a different letter on the back in order. So one person would have A and B and the next would have C and D. And they would do the alphabet and would flip around as the alphabet jumped around.[1]

"
Sources
External links
Ad blocker interference detected!
Wikia is a free-to-use site that makes money from advertising. We have a modified experience for viewers using ad blockers

Wikia is not accessible if you've made further modifications. Remove the custom ad blocker rule(s) and the page will load as expected.