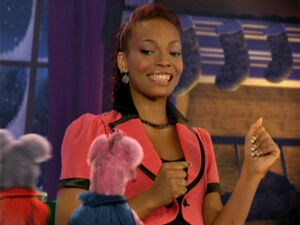 Tiffany Curl is a dancer and choreographer who appeared in Elmo's Christmas Countdown, playing Clara in "The Nutcracker Suite" segment, opposite Jamie Foxx and an Elmo Nutcracker. Curl also choreographed the special, along with Brian Thomas.
Curl is a graduate from the Professional Children's School in New York City and teaches at DanceWorks Studio. Her performance credits include stints with the DC Youth Ensemble in Washington DC, the PaperMill Playhouse Musical Theater Conservatory, and the Maplewood Strollers.
External links
Ad blocker interference detected!
Wikia is a free-to-use site that makes money from advertising. We have a modified experience for viewers using ad blockers

Wikia is not accessible if you've made further modifications. Remove the custom ad blocker rule(s) and the page will load as expected.