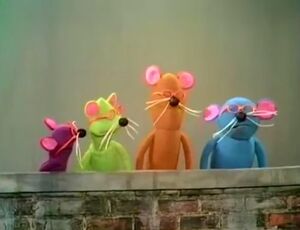 Three Blind Mice is an English nursery rhyme, sometimes set to music (as a round song). First published in 1609 the origins of the rhyme are unclear, but it has re-published countless times, and continues to be referenced. Agatha Christie uses the rhyme as a central point of her play Mousetrap, and The Three Stooges borrow from the song for their theme music.
Performances
Ad blocker interference detected!
Wikia is a free-to-use site that makes money from advertising. We have a modified experience for viewers using ad blockers

Wikia is not accessible if you've made further modifications. Remove the custom ad blocker rule(s) and the page will load as expected.